Hi!! I wanted to let you know that my blog is nominated in the Osterreichischer Blog Award!!!
How exciting is that?! But I really need your help to be one of the finalists!
Could you please help me and vote for my blog? :)
Here is an step-by-step explanation on how to vote...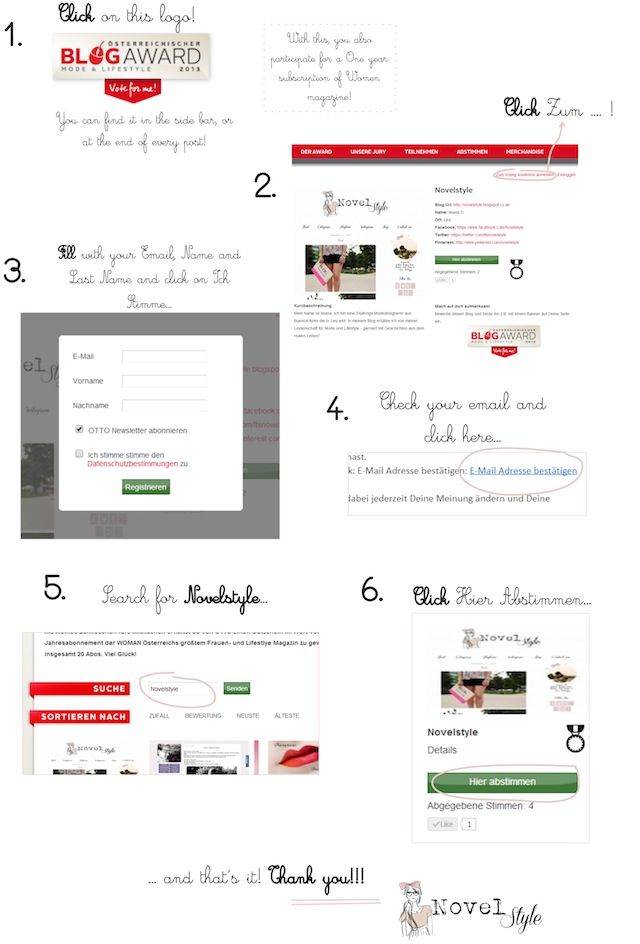 And good news for you too...! Seems that whoever votes gets the chance to participate for the chance to win an anual subscription to Women magazine!
......................................
And that's not all!
I was given the versatile blogger award by Casey (
Veggies and Glitter
) and Adry (
Soy Adri E
). Thanks!!! I really love both of your blogs! :)
So, here are my nominees...
(What I love about this, it that it is some kind of blogroll)
- Remly at
The Little Venice
- Katie at
The Gravity and She
- Danielle at
Bean Sprouting
- Rebecca at
Winnipeg Style
- Andrea at
Wonderful and Marvelous
- Maria at
Waffle
- Angela at
The Charmed Cupcake
- Lilli at
Candy and Style
- Adriana at
Fashion Frisson
- Diana at
Petitgraphie
- Pamela at
The Style and Travel Journals
- Carmen at
Clothes and Camera
- Melany at
Maria Croqueta
and, as the rules say... I must post 7 interesting facts about me!
1) I love traveling, but I hate flying. Even though I'm a frequent traveller.
2) I live in Austria, and I hate beer, sausages and hiking.
3) My fave restaurant is Cracker Barrel. I'm obsessed with Biscuits. I could eat them all day long!
4) I really can't wait for the Veronica Mars movie!!
5) I always start packing one week before going on a trip.
6) I love handbags and investing on them. At the end, they are the ones that will always fit! And I take so much care of them! Each has its own dust bag and is filled with papers, so it won't get old.
7) I love reading! But I'm always worried the book might not be good enough, and takes me some time to start with it. But once I start reading it... I finish with it in a week, or less.